Windsor Feminist Theatre, a non-profit theatre company founded in 1980, is recognized as one of the nation's first feminist theatre organizations and is among the oldest organizations of its kind in Canada.
Thursday, May 4, 2023
Windsor Feminist Theatre presents the brand new dramatic mystery "Walking Upside-Down Underwater" by Edele Winnie.
She went out for a stroll and disappeared. Vanished. As the police interview her husband, coworkers, and neighbours the case grows ever murkier. What has happened to Julie Petar? A dramatic mystery.
Presented at The Shadowbox Theatre – 1501 Howard Ave, Windsor, ON (corner of Howard and Shepherd).
Tickets are $25 at the door or online at Eventbrite.
Featuring:
Luke Boughner, Fay Lynn, Rebecca S. Mickle, Brianna Morneau, Joey Ouellette, Mary Grace Weir
Directed by Joey Ouellette
Presented in partnership with The Shadowbox Theatre and supported by the City of Windsor's Arts, Culture & Heritage Fund.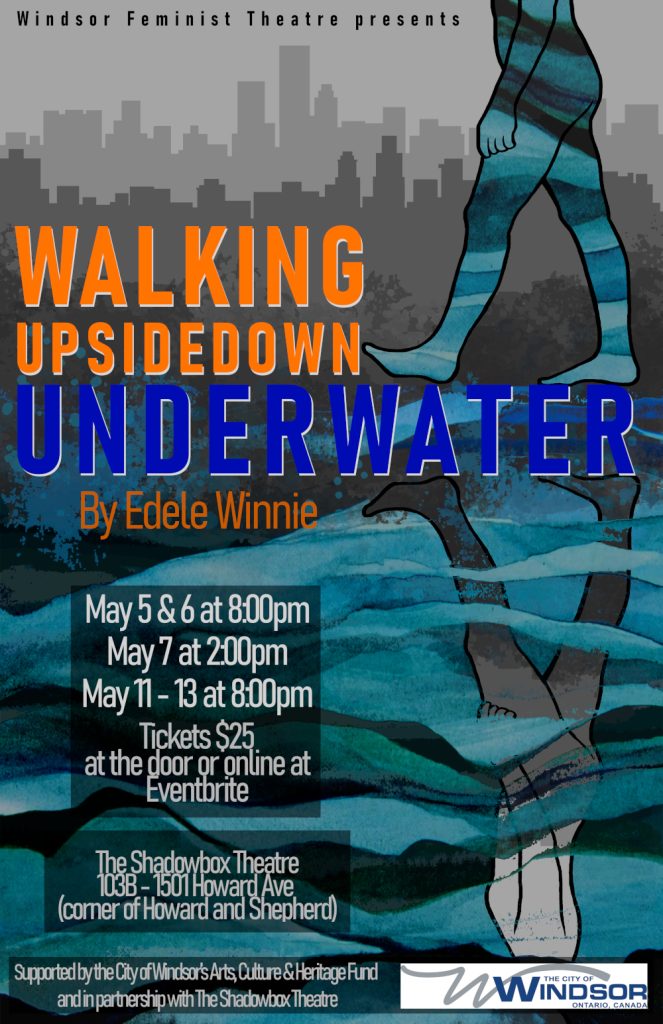 Friday, July 15, 2022
For Immediate Release:
It is with great delight that the board of Waawiiyaatanong (formerly Windsor) Feminist Theatre is announcing the appointment of new Artistic Director, Rebecca Mickle.
Rebecca S. Mickle is a singer, actress, and writer from Amherstburg, Ontario. She received her Bachelor of Music in Classical Voice from The University of Windsor and her Master of Music in Classical and Operatic Vocal Performance from Wayne State University. Mickle has performed in countless productions in Canada and the United States, most recently playing Madam de Sade in WFT's production of Dominatrix on Trial. She has also performed in several short films and TV shows.
Rebecca has worked in many capacities in the regional, international, and provincial artistic community, and is most recently noted for her tour de force portrayal as Terri-Jean Bedford (Madame de Sade) in WFT's original production of Dominatrix on Trial.
She will officially take the reins January 1, 2023 after spending the rest of 2022 being mentored by outgoing Artistic Director, Patricia Fell, to whom we owe a debt of gratitude for so ably running the company for the past 16 years and bringing it national recognition.
Congratulations, Rebecca, we have every confidence in you!