The Pel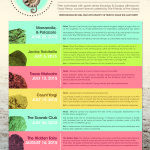 ee Island Music Series is a growing and eclectic series of concerts and other artistic events featuring spoken word, live performance, & visual arts. The performances take place on Sundays in June, July, and August in a disused fossilized limestone quarry and restored former landfill. Primarily promoting local professional artists, we are very pleased to host approximately 30 artists for week long residencies this year. These professional artists from differing genres will lead workshops and master classes we are offering twice a week that are open to all community members at no cost. Our finalé performance of The Hidden Fairy, written by Pamela Cole, is an original collaborative, improvised jazz opera featuring community participants, and will take place on Aug. 16th, 2015. Admission is $10 (no charge for children), please BYOC (bring your own chair), limited seating available.
July 5, 2015, 6:00 pm
Word: Robert Earl Stewart writes poetry, fiction and non-fiction, with fountain pens, in pretentious notebooks, while drinking good coffee and thinking about his next run.
Music: Jackie Robitaille's ethereal delicacies crafted with classically trained vocals accompanied by expert keyboard techniques have landed her vocal chords in the esteemed company of the Windsor Symphony Orchestra at the opening of the War of 1812 bi-centennial celebrations and on the stage of New York's Carnegie Hall.
Art: in collaboration with Tracy Paterson of Fuse, painter & hair sculptor.
Artist Workshops
Come early, or make a weekend of it and attend this weekend's Artist Workshops with Trevor Malcolm and Robert Earl Stewart.
Location
The Quarry is located on East West Road on Pelee Island. From the ferry terminal, turn right and walk along W Shore Road, then turn left onto East West Road. The Quarry will be ahead on your left. It will take about 10-15 minutes to walk from the ferry terminal.
Helpful Links