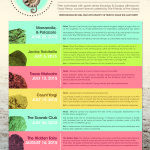 The Pelee Island Music Series is a growing and eclectic series of concerts and other artistic events featuring spoken word, live performance, & visual arts. The performances take place on Sundays in June, July, and August in a disused fossilized limestone quarry and restored former landfill. Primarily promoting local professional artists, we are very pleased to host approximately 30 artists for week long residencies this year. These professional artists from differing genres will lead workshops and master classes we are offering twice a week that are open to all community members at no cost. Our finalé performance of The Hidden Fairy, written by Pamela Cole, is an original collaborative, improvised jazz opera featuring community participants, and will take place on Aug. 16th, 2015. Admission is $10 (no charge for children), please BYOC (bring your own chair), limited seating available.
June 28, 2015, 6:00 pm
Word: Pamela Cole's fanciful musings evoke vibrant imagery, delight all ages, and act as the inspiration for our finalé performance of improvised, collaborative jazz opera.
Music: Manzerolle & Palazzolo will treat us to another tour de force of jazz standards & virtuosic solos. Hear Ray Manzerolle soar above the crowd without a chordal net.
Art: in collaboration with Windsor Feminist Theatre and the Pelee Island Public School.
Artist Workshops
Come early to attend this weekend's Artist Workshop with Ray Manzerolle.
Location
The Quarry is located on East West Road on Pelee Island. From the ferry terminal, turn right and walk along W Shore Road, then turn left onto East West Road. The Quarry will be ahead on your left. It will take about 10-15 minutes to walk from the ferry terminal.
Helpful Links